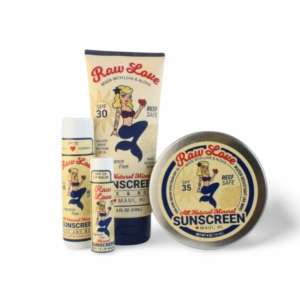 When visiting Hawaii, please leave behind any plastic tubes of sunscreen, all spray sunscreens, and all chemical sunscreens! The coral reef and all of the ocean's creatures will thank you! All visitors to the Hawaiian islands should comply with the sunscreen ban to help improve conditions for living creatures being affected by toxic pollution in the ocean caused by sunscreens and other products used by humans every day.
Raw Love Mineral Sunscreen is an all natural organic reef safe sunscreen and designed to moisturize your skin while protecting it from sun damage. Please support sunscreen brands that are committed to helping corals in our oceans.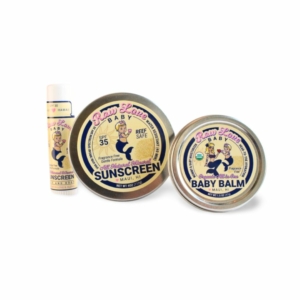 Shop now, we carry 4 ounce tins, 2 ounce tins, as well as our newer reef safe mineral sunscreen sticks – which we also offer in our Raw Love Baby line.
We also offer some sweet sunscreen packs for busy families on the go. These are great birthday gifts!