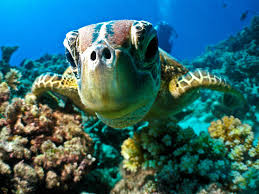 Raw Love Sunscreen uses 100% all natural, plant based ingredients using organic farming methods. The beeswax works as a water resistant agent to your skin when doing active things like like running, diving, gardening and so on! It is suitable for any water activity and suitable for any age. We have hand selected ingredients to give your skin and or tattoos the moisture, antioxidants and glow that you deserve!
Our main active ingredient is Zinc Oxide—one of only 17 active ingredients currently approved by the FDA for use in sunscreens.
Zinc oxide particles sit on the outermost layer of your skin, the stratum corneum, where they scatter, absorb, and reflect ultraviolet radiation, protecting your living skin below. Zinc oxide is unique among sunscreen ingredients in that it is truly a broad-spectrum blocker, protecting from UVA, UVB, and even UVC. We've determined that zinc oxide is the safest, most effective active sunscreen ingredient available.
Reef Friendly Sunscreen Ingredients:
Cold Pressed unrefined coconut oil
Raw Shea Butter
Zinc Oxide ( non nano)
Sesame Oil
Beeswax
Jojoba Oil
Vitamin E Oil
Carrot Seed Oil
Pure Essential Oils:
Lavender
Peppermint
Eucalyptus
LOVE <3
New to organic zinc based sunscreens?
Please note that this is not your average drugstore sunscreen! Most formulas containing even the smallest amount of zinc on store shelves are extremely overpriced so many people are not accustomed to using natural alternatives but we don't want anyone to be surprised! With our sunscreen a little goes a very long way, please do not lather on loads of your sunscreen as it will be difficult to rub in and you will most likely be wasting product. The consistency is different than the runny lotions you find at most stores and your skin will turn a slight shade of white but nothing that is unsightly or embarrassing, just rub it in. We believe it is just the right amount to provide long lasting protection without turning the person using it into a ghost. For best results, apply a small amount to fingertips and rub onto the skin until evenly distributed. You will be amazed just how long your product lasts!
Due to the nature of the butters we use, you may notice in time that your lotion becomes gritty. Despite our best efforts to maintain an ultra creamy consistency, this has proven to be an inevitable part of working with raw unrefined ingredients. The grittiness is typical of the butters we use especially when the product has been melted down and solidified numerous times. The grittiness varies depending on the batch as well as the climate it is created in and traveling to.  Once the product leaves our location there is no way for us to control the temperature fluctuations during transit. It is important to note that the grittiness does not in anyway take away from the healing properties of the butters and these small crystal-like beads will dissolve and rub in as soon as it touches warm skin.
Raw Love has a two year shelf life. Get out in the sun and use it 🙂 Store  your sunscreen in a dark place at room temperature when you're not using it or cool it down in the fridge for a nice cooling effect on a hot summers day!
Mahalo, enjoy!!
---
Disclaimers:
Please test a small amount on skin before applying to entire body, especially with children, to test for any sensitivities.