We Ship ANYWHERE! Standard and International prices reflect at checkout.
We only charge what it costs us – we want to spread the love globally!
4 oz Tin Jar
Great for Families or those who use sunscreen often!
2.5 oz Tin Jar
Everyone seems to love this medium sized tin that fits in your purse or pocket! Plane carry on approved size!
.6 oz Tin Jar
Great for those who only use sunscreen on their face or want to give it a try. Works great as a travel size to keep in your pocket or while surfing! Makes great party favors! Email me for wholesale prices if you are interested in 15 or more.
MAUI
Paia
POME (Product of My Environment) 151 Hana Highway Unit B Paia Hawaii 96779
Mana Foods 49 Baldwin Ave, Paia, HI 96779
Road to Hana
Jaws County Store 4320 Hana Hwy, Haiku, HI 96708
Half Way  T0 Hana 

3710 Hana Hwy, Haiku, HI 96708

Coconut Glens  Hana Hwy, Haiku, HI 96708
Nahiku Ti Gallery 28 Mile Marker, Hana, HI 96713
Hana Farms 2910 Hana Hwy, Hana, Hawaii 96713
Hasegawas General Store 5165 Hana Hwy, Hana, HI 96713
Hana Gas 5170 Hana Hwy, Hana, HI 96713
I Love Hana Art Boutique 8 Mill Street, Hana, HI 96713
Hana Ranch Store 1 Mill St, Hana, HI 96713


Haiku

Hanzawa's Variety Store 1833 Kaupakalua Rd, Haiku, HI 96708

Makawao

Rodeo General Store 3661 Baldwin Ave, Makawao, HI 96768
Makawao Town Pharmacy 1120 Makawao Ave, Makawao, HI 96768
Volcano Spice 3621 Baldwin Ave #2, Makawao, HI 96768

Kahului

Alive and Well 340 Hana Hwy, Kahului, HI 96732
Hi Tech Surf Sports 425 Koloa St #107, Kahului, HI 96732

Kihei

Maui Dreams Dive shop 1993 S Kihei Rd, Kihei, HI 96753
Sunkissed Wahine 1941 S Kihei Rd Ste A7 Kihei, HI 96753
808 Wellness 2439 S Kihei Rd Suite 206a, Kihei, HI 96753
Hidden Spa 1993 S Kihei Rd #19, Kihei, HI 96753
Unique Boutique 61 S Kihei Rd, Kihei, HI 96753
Hi Tech Surf Sports 2021 S Kihei Rd Kihei, HI 96753

 

Wailea

Wailea Pharmacy 34 Wailea Ike Dr, Kihei, HI 9675
Maui Dive Shop Shops of Wailea 3750 Wailea Alanui Rd. #B-29
Kihei, Hi. 96753

Wailuku:

Green Ti Boutique and Massage 40 N Market St, Wailuku, HI 96793

Lahaina:

Choice Health Bar 1087 Limahana Pl, Lahaina, HI 96761
Farmers Market grocery 3636 Lower Honoapiilani Rd, Lahaina, HI 96761
Maui Dive Shop Kahana Gateway 4405 Honoapiilani Hwy. #204 Lahaina,HI. 96761
OAHU
Kahumanu Farms 86-660 Lualualei Homestead Rd, Waianae, HI 96792
Tini Manini 66-250 Kamehameha Hwy, Haleiwa, HI 96712
Tropical Rush Surf co (Volcom store of the North Shore ) 62-620 Kamehameha Hwy # A, Haleiwa, HI 96712
Waiahole Nursery & Garden Center 48-190 Kamehameha Hwy, Kaneohe, HI 96744
KAUAI
Harvest Market 5-5161 Kuhio Hwy F, Hanalei, HI 96714
Healthy Hut Hookui Rd, Kilauea, HI 96754
Vim n Vigor 

3-3122 Kuhio Hwy, Lihue, HI 96766

Holo Holo Charters 4353 Waialo Rd, Eleele, HI 96705
BIG ISLAND
Island Naturals Hilo

221 Kilauea Avenue, Hilo, HI 96720

Island Naturals Kailua Kona 

74-5487 Kaiwi Street, Kailua-Kona, HI 96740

Island Naturals Pahoa

 15-1870 Akeakamai Loop, Pahoa, HI 96778

Abundant Life Natural Foods

292 Kamehameha Ave, Hilo, HI 96720

Big Island Divers

74-5467 Kaiwi St, Kailua-Kona, HI 96740
MAINLAND
California
Orange Coast College Sailing and Seamanship 1801 West Coast Hwy, Newport Beach, CA 92663
Seattle
Adair's Spa 22627 Bothell Everett Hwy, Suite 114, (Phenix Salon Suites), Bothell, WA 98021
SNORKEL TOUR / DIVE BOATS
Offering FREE Raw Love Sunscreen on board!
Maui
Diamond Sea Sports II Dive boat- call (808) 879-9119 

Alii Nui Sailing Charters

- call (808)-875-0333

Maui Parasail

Call (808)-661-4060
Sea Monkey Private Charters  call (808)-491-9141

Makai Adventures -

call (808) 495-1001

Ultimate Whale Watch

call (808) 667-5678
Oahu
Love More! Raw love makes a great gift too!
Shipping & Store Policies
---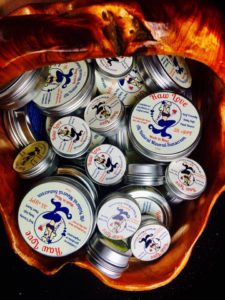 Raw Love is happy to ship anywhere in the US.
Please contact me at jenna@rawlovesunscreen.com for international shipping rates.
All orders will ship 2-7 business days after ordering. 
Each jar 4oz mason jar is enough for a large family to lather up everyday for a couple weeks, it is very concentrated! It is equal to approximately 6 of those terrible spray cans that are sold—ditch the spray!
Remember we do not use fillers so a little goes a long way!
PLEASE keep in mind for all my fellow light skinned or sensitive skin loves, if you have not been in the sun in a very long time the sun can be strong so make sure to give your skin love. This means make sure  to re-apply often and use a thicker layer for first time usage. Thousands of people have used our product and love it, everyone is different and need different applications.
Please include your name and address in the Paypal link provided.
We  would love to hear what you think and any feedback is always appreciated as we grow! Check us out on instagram and facebook for specials and up to date info!
Please make sure to let the founder herself, Jenna Davis know what you think at jenna@rawlovesunscreen.com
WE LOVE YOU!
Mahalo!
Stores that carry Raw Love Sunscreen are an extension of us because we believe in supporting local and small businesses!